Light Tracer 2.3.2 for Web
Today we are extremely happy to announce a new version of Light Tracer Render 2.3.2 for Web! Take a look here. This update has received almost all the innovations of the native version 2.3.0, including the online PBR material library and libraries of HDR studio lights and environment maps, improved tone mapping and color correction, advanced animation capabilities, import models from PLY format as well as models with vertex colors ("poly-painted") and much more. You can learn more about all new features in the press release of the native version for Windows and macOS.
If you run the Web version on a dual-GPU laptop, ensure your browser uses a dedicated GPU
We recommend to use at least GeForce GTX 670 / GeForce GTX 1050 / AMD Radeon RX 560 / Apple M1
Why do you even need a web version?
Light Tracer Render brings uncompromised ray tracing quality to the web! It does not need to be installed or updated – it is always up to date. This version can be used to sketch projects on the go directly on a tablet or other mobile device, while high-quality rendering can be done later on a more powerful workstation. The scene can be published privately and shared by link with friends or colleagues to review the design and exchange ideas. At the same time, your friends can view it in photorealistic quality from any device connected to the Internet. Like many other services, rendering should just come to the web, and Light Tracer offers its vision of such a solution today.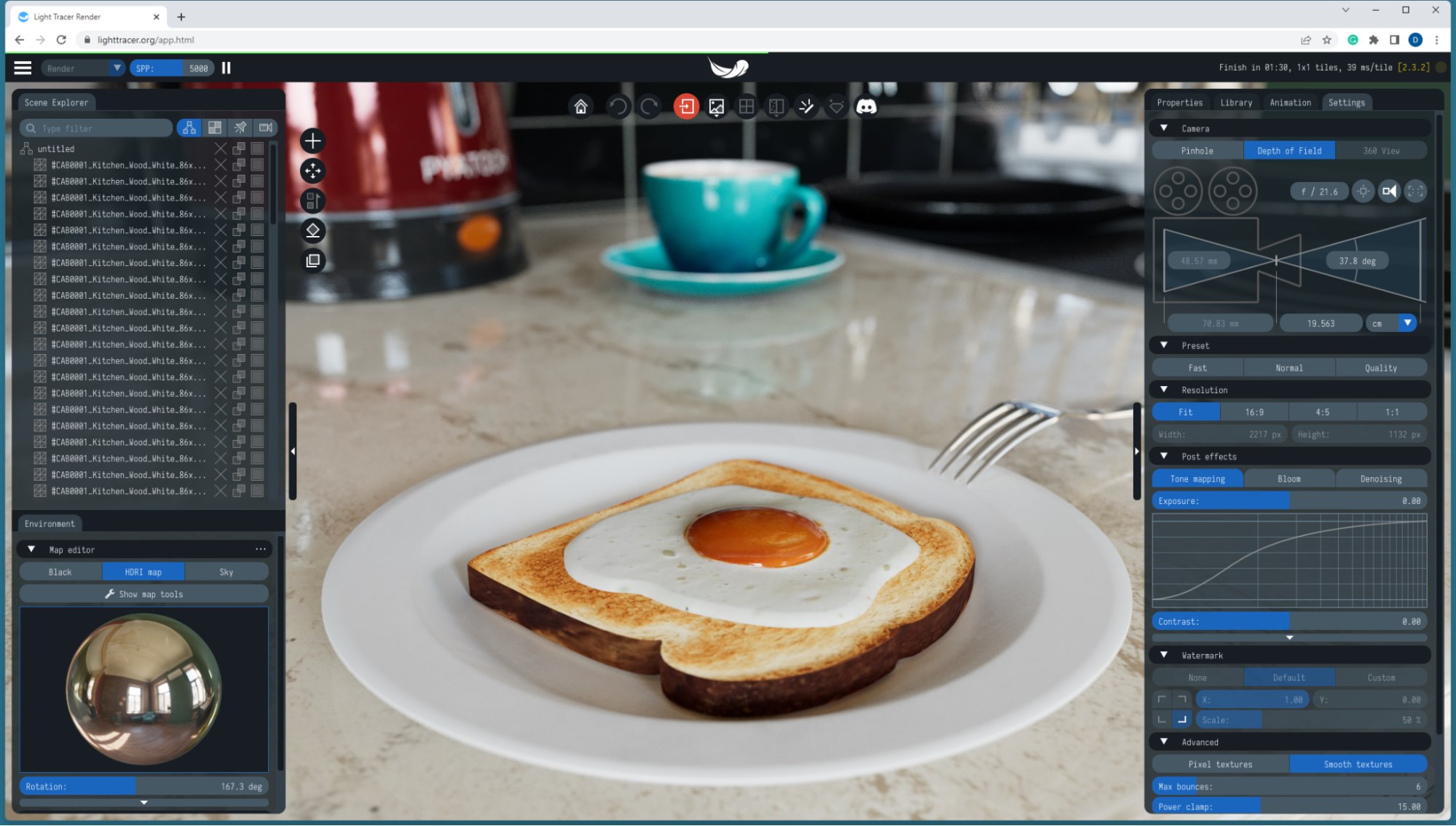 With such an interactive rendering tool, designers and 3D artists can share and view artwork on any device using only a web browser. Any scene created in the native version of Light Tracer can be published to https://lighttracer.org (as a public or private link) and could be embedded into websites, online shops, 3D configurators, or sent via email. This allows Light Tracer platform to be used as an online hosting for interactive photorealistic presentations to drive engagement for online businesses.
Today, interactive 3D experiences are getting significant attention and starting to play an increasing role in promoting products and services. Almost all similar tools use server-side rendering: the user's 3D model is sent to a cloud server, where rendering is actually performed, after which the resulting image is sent back to the browser. On the contrary, Light Tracer is a pioneer in client-side photorealistic rendering. That means the rendering is done directly on the user's device and not on the cloud server. For this reason, in Light Tracer, the user's models and rendering results are not sent anywhere and remain only on personal device. This guarantees complete data privacy and high rendering responsiveness. Also, there is no load on the Internet channel and there is no need to maintain expensive GPU cloud servers, for which end-users ultimately have to pay. This allows the basic version of Light Tracer for Web to remain completely free without restrictions on rendering time, the number of scenes, size of the output images, etc. Of course, the rendering speed is completely dependent on the hardware in the user's device (mainly on the GPU).
What are the differences between the versions?
In this post, we want to focus on the positioning of the web version, as we have made great efforts to make it an important part of the Light Tracer ecosystem. First, the basic web version can be used absolutely free of charge without the need for registration and without any annoying ads inside. This version has some limitations that are not related to the quality and resolution of rendering, the number of processed 3D models, the rendering time, and the like. Some production features are disabled that are mainly used in a professional environment. If you have a subscription and/or a perpetual license, the web version gets an unlocked feature set (but still not the same as a native version since it is impossible to support all the stuff in web browser). You can compare all the features of the native version and the web versions (free and full-featured) in detail on a comparison page:
Render everywhere!
Four years ago, the Light Tracer project arose from the challenging idea of creating a full-featured physically-based renderer that could run in a web browser. This goal was achieved back then but only for desktop browsers. Over the past years, our team has been working hard to improve compatibility, and browsers have gradually received support for missing features. Finally, we are happy to say that Light Tracer now works almost everywhere: you can run it on Chrome, Edge, Firefox, Safari, Opera, and others. Moreover, the version of Safari for mobile devices is also supported, so Light Tracer can even be used on the iPad (you may have to update the system to get the latest version of Safari).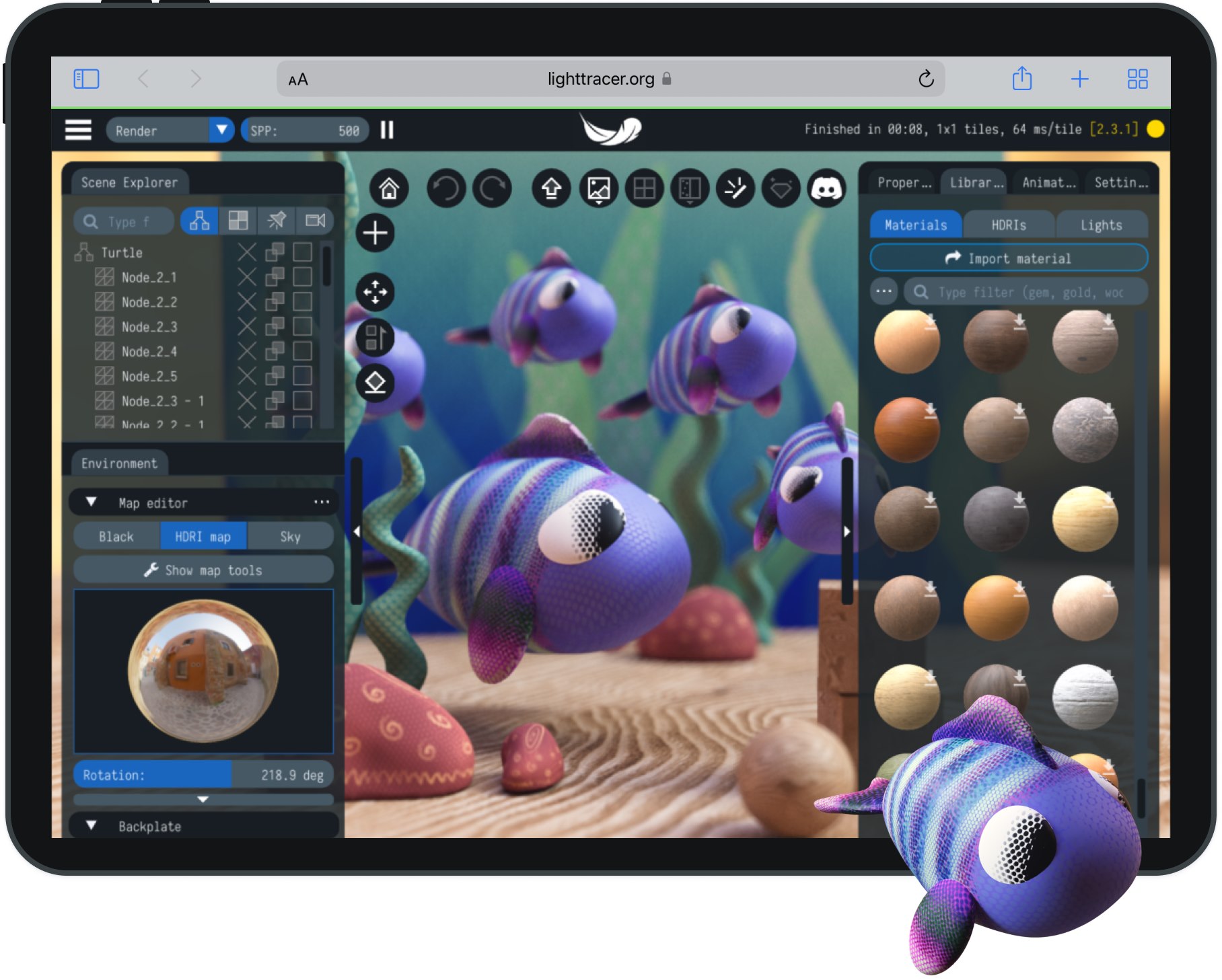 Light Tracer can run even on modern phones (both Android and iPhone), and with the latest generations of SOCs (such as Snapdragon 888), you may expect acceptable performance. However, the user experience on such small-screen devices is not quite good, and they probably need a different UI. At the same time, on tablets like the iPad Pro (based on the M1 chip), Light Tracer can be used quite smoothly, and the screen size is enough for comfortable interaction with the controls.
A crucial point of mobile device support is convenient user interaction through a touchscreen. The new version has got significant improvement for touch screens and touch pads support, so there is no need to connect external control devices.
We hope the new web version will find its place in your arsenal of favorite 3D tools. It's so easy to take it with you! You don't need to install anything, just open a browser and go to https://lighttracer.org/app.html. We are looking forward to hearing from you about the new version! As usual, any questions and suggestions can be addressed in our Discord community.
Start using Light Tracer Render today